This one-day introductory training provides individuals and organizations with the background and resources they need to create effective outreach to veterans in their local communities.
Got Your Back is based on Trauma Resilience training developed for the 9/11 aftermath.
Facilitators include:
Gabe Nutter-combat vet with over 250 missions in S. Baghdad; a team leader and educator with the Dept. of Veterans Services.
Beverly Prestwood-Taylor, international trauma healing trainer
Cynthia Crosson-Harrington, developer of program placing service dogs with veterans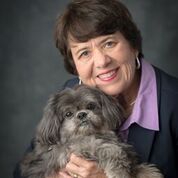 Cynthia Crosson-Harrington explains
Who should attend?
Community leaders, congregation members, pastors, healthcare professionals, firefighters, police officers, teachers, social workers, veterans and active duty military, families of veterans ... anyone who wants to know more about how to support veterans and active duty military as they return from deployment.
What will you learn?
The positive and negative effects of combat and the impact on re-entry
How to support vets, spiritually and emotionally, as the return to civilian life
What YOU can do to help vets in their journey home from war.
Cost $15. Space is limited. Registration deadline is April 5. Click here to register.
The First Congregational Church is near the Whately Inn.